"Kimono" – exclusive and different linen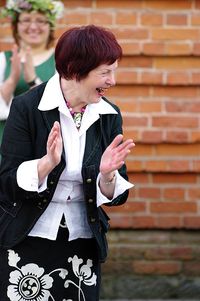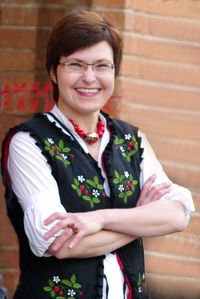 Enterprise "Kimono" was founded in 1993. It is a small, family capital enterprise, owned and managed by Dalia Kavaliauskienė. She founded the enterprise and manages it together with a creative team. Her daughter Asta is responsible for creativity and sales. Due to cooperation with various artists and architecs our linen items are exclusive and different. But let's look back and remember everything in turn...
We started our activity with export of embroidered by hand linen items to Sweden and Denmark. In the course of time our customers changed and since 2000 we have been taking part in international Gift and Interior exhibitions in Frankfurt (Germany), Birmingham (Great Britain) and Oslo (Norway), where we have been offering linen items of the highest quality. In this way the circle of our customers has widened, and our articles have reached Scandinavia, Germany, Austria, Switzerland, Great Britain, Andorra, Greece, the USA and Japan.
In the course of time the interest in our linen items has been increasing in Lithuania, especially among the interior designers and architects. We have met a new challenge – we needed new breath and new stylistics on hell-bent.
Salon " Cosy Homes" - a cosy place for cosy people
The housewarming party of the Salon "Cosy Homes" ("Jaukūs namai") was celebrated on May 30,2007.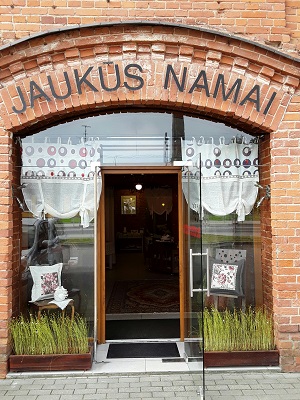 We will remember the days before the housewarming for a long time. It was difficult to imagine the interior of the salon untill all the items were put into their places, but when every item found its place, the sight surpassed all expectations. It was really a cosy home! Everything from the smallest item to the furniture reminds of home. Still atmosphere, quiet music, arched ceiling, walls of authentic bricks makes a perfect space for the items of linen, hansomely dispayed on the shelves, hung on the racks and the ladder, are silently waiting for every guest. The attention is captured by the lighted cabinet with a huge variety of art works, accesories, greeting cards. On the walls you can see art works of various artists , the exposition of which is being changed time from time.
The Cosy Homes has been to its credit. We can offer not only a cosy atmosphere, but also such items of linen you will not find anywhere else, because we make them and change the assortment four time a year. The Cosy Homes looks different in every season. We change together with seasons...
One more very important thing about the Cosy Homes is that it is visited by especially cosy people, who become our friends and almost our folks. Due to such friendship and wish to be together, the Cosy Homes became a place for different events, meetings, and concerts . You can see some of them in this page.
We are ready to offer not only the articles you can find on our shelves, but also the ones you cannot find , i.e. we can create a special present for You – curtains, tablecloths or bed linen for Your cosy home.
It is impossible to picture the life in the Cosy Homes by words. As they say , it is better to see once than to hear a hundred times.
So see you soon in our Cosy Homes,
Dalia and Asta